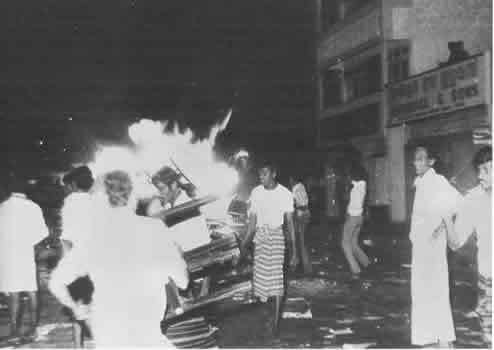 Black July. 1983 riots. Formation of the LTTE. The beginning of official war.

25 years. SAARC Summit. Malignant Leader. Hikkaduwa Beach Festival.
Err.. what? Yep, Hikkaduwa Beach Festival. Our great leader in the month where we should be remembering, learning the lessons, focussing on an end to this eternal crisis we have been thrown into has organised two massive fests for his subjects.

One, for the people who want to stay in Colombo, the great SAARC summit which has caused innocent people to become homeless, traffic to rise to unbearable levels with the Great Road Renovations (of course, its only the major roads and not the smaller roads that really need reparations) and the future Road Closures (so that these roads that are been made can not be potholed again by the horrible Sri Lankan populace).

Second, because Colombo is not the economic capital and it is okay for all the offices to close because of the SAARC summit, the people can leave the Leaders of the Asian World to discuss their important matters and head over to Hikkaduwa for the beach fest. Since our economy is flying and can afford both these extravaganzas, we can really take advantage of this great offer.

Now, who can say the Great Leader doesn't think of his people?

I wonder if the Dematagoda housing scheme that His Highness made for the people who was driven out of Slave Island in time for SAARC is ready yet? I wonder how many houses could have been made from the billion odd rupees thats lost through Mihin Air? How many salaries could have been increased by the amount thats been wasted on SAARC?

July really is a Black month for Sri Lanka.
It was Black since 1983...but since 2005 its gotten a whole shade darker.